Infection control, wayfinding, acoustics, ergonomics, indoor air quality, roller mobility, slip resistance, aesthetics…. These are just a few of the issues that we encounter when specifying flooring in a health care setting. Special care must be taken in operating rooms, precision of scheduling is top priority in a fully operational hospital, utilizing specialized adhesives & installation methods where Hill-Rom type beds will be placed, ease of maintenance, and knowing initial cost vs. life-cycle costs are examples of factors that must be considered during the selection process. Flooring specification for a health care facility can be a very time consuming & have long term impacts. Corridor Flooring provides a full spectrum of materials and installation methods to fit the needs of these facilities. The recent COVID-19 pandemic has forced a change in health care design. Maintenance & Infectious control are of the utmost importance now more than ever. Corridor Flooring offers a site specific comprehensive, preventative maintenance program that can help with that aspect, as well as protecting your investment and taking full advantage of material warranties.
Higher Education Institutions
The Higher Education market is one of our specialties. We utilize cooperative purchasing contracts such as E&I and Sourcewell, which streamlines the process for purchasing flooring for your facility, thus saving time and money. We have completed many projects at major universities and community colleges in Baltimore City, Baltimore County, and College Park among many other locations. Durability and environmental factors play a large role in the flooring selections, along with the need for products that can be procured quickly.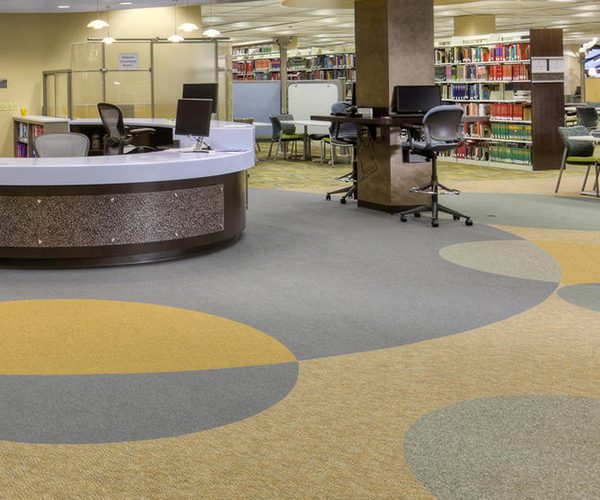 Corporate / Property Management
Establishing a "building standards" program for both common areas & tenant leased spaces is a reliable way to maintain the appearance & quality of the flooring in your facilities, while also making the flooring selection process much easier for everyone & staying within a budget. We have assisted in creating these programs after meeting with the property management group to establish the needs of each individual building. We are also able to create an individualized interim maintenance program to keep these flooring products looking top notch for years to come while taking full advantage of the warranty provided by the manufacturer.   
Many religious facilities are reluctant to replace flooring due to the complexity of the project. Often times, these buildings are historic in nature, thus making furniture moving & demolition a delicate process. There are pews to move, the stage generally requires specialized upholstery work & the sanctuary often times has angled walls that make for a difficult layout & installation. Budget can also play a major factor in renovations. Corridor Flooring can assist in making sure you have the most practical materials installed that will last for years. We can also help create a maintenance program to extend the life of your flooring!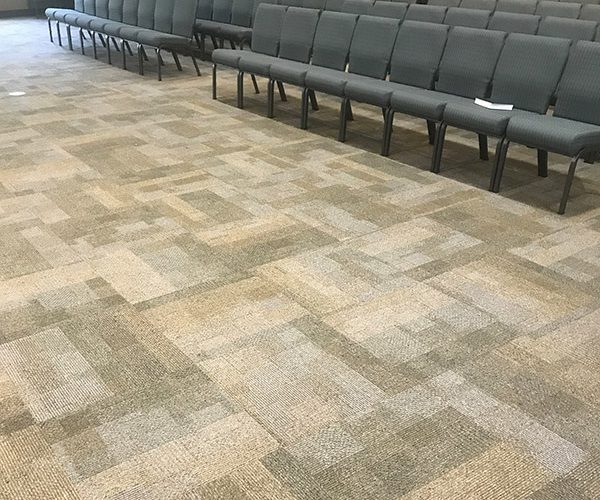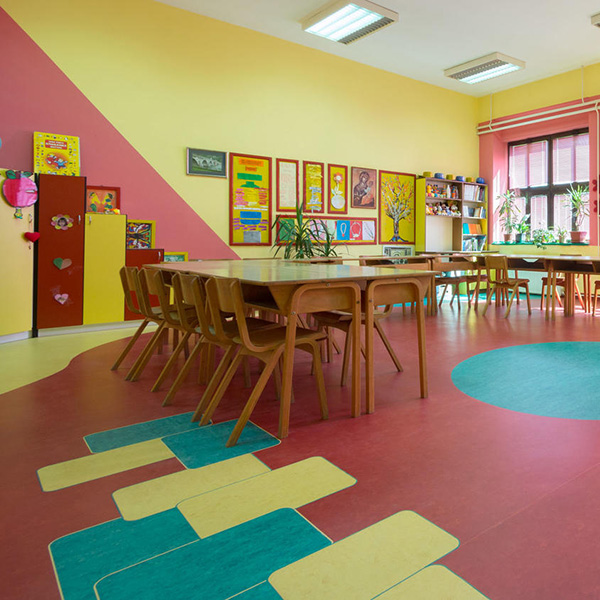 The learning environments have changed, especially since the pandemic. Teachers may have students gather outside the building more, or they may sit as a group on the floor and learn a lesson. The assemblage of students has become less formal and more free flowing. Anti-microbial flooring is important if students are going to sit on the floor. Luxury vinyl tile has become popular in hallways and corridors. This is because of the low level of maintenance that is necessary. Oftentimes there are many different types of flooring within one school building. In the gymnasium, you may want rubber. The lobby might be a colorful, inviting space that exudes openness and enhances the senses. Still another area may utilize carpet. Air quality, acoustics, an ability to be soundproof, are all outside factors that will assist an institution in selecting the proper flooring for each section of the school. There are also impermeable types of flooring that won't allow spills or leaks to get through to the sub-floor. This will prevent moisure from being trapped and will prevent mold or mildew growth.
Government & Municipal Buildings
Corridor Flooring has vast expertise with government facilities and buildings. Our portfolio of projects spans a wide variety of custom applications. In a secure room (or SCIF), carpet tile may be a wise selection. This would also be true in areas where there was raised access flooring. A lot of government buildings have sensitive IT rooms, in which case static dissipative tile may be implemented. Some major considerations with government space include whether or not it is for military use. Boot polish can affect which flooring to choose. Other recommendations may be Luxury Vinyl Tile for cafeterias and Carpet Tile for office space. Regardless of the type of space, Corridor Flooring can customize needs for all government and municipal entities.
Providing commercial flooring solutions for decades has allowed Corridor Flooring to become experts in both corporate office space and flooring for retail stores. For retail space, you may get a tremendous amount of traffic, meaning durability is of the utmost importance. An appealing appearance is also imperative in the retail world. You want customers to come into the space to shop, and you also want them to enjoy the atmosphere enough so that they come back again and again. Luxury Vinyl Tile is a great option for retail space. It offers an extraordinary appearance, durability, and it is easy to maintain. Regardless of what type of store or shop you have; Corridor can provide many solutions for retail flooring.
Banks, Credit Unions & Financial Institutions
Corridor Flooring has provided solutions to many financial institutions. Banks and credit unions get a lot of foot traffic, as customers are in and out of the building all day. Ceramic is typically installed in lobby areas, which makes entry mats extremely important. Bank management will want to guard against slips and falls. Normally banks and credit unions utilize carpet tile behind the counters and in the offices. This provides comfort underfoot. Banks flooring needs may vary depending on the setup of the space, and Corridor Flooring can help you navigate the options.
Assisted Living Residences
Great care must be taken when selecting flooring for Assisted Living facilities.  Flooring can have a direct impact on residents & understanding these unique challenges is imperative. From independent living, Alzheimer's & dementia units, mixed use common areas; there is a place for all types of flooring. Even the seemingly small details; right down to which transition strip will not hinder wheelchair navigation; all must be taken into consideration. Equally as important to material selection is the installation of those materials. Corridor Flooring Associates has a team of certified installers that have a long history of working in these facilities & are sensitive to the delicate nature of Senior Care.
Would you like to hire us?
Starting with a free consultation, our sales professionals are prepared to guide you through each aspect of your flooring project from start to finish.